By
dallaseste
Cliff Lee Returns to Philadelphia

Cliff Lee, the ace left-hander that helped the Texas rangers advance to the World Series for the first time in their history, has signed a five-year deal to return to the Philadelphia Philles, the other team with whom he has gone to Fall Classic.

By
dallaseste
Yankee Stadium Crowd Silenced by Rangers' Onslaught

An eerily-quiet Yankees Stadium playoff crowd went dead silent and scores of Yankees fans headed for the exits, not even sticking around to see if their vaunted Yankees could cut into the massive 10-3 lead the Rangers had built before the home team came to bat in the ninth inning.

By
Steve C.
Rangers Even Up Series with 7-2 Win over Yankees
The Texas Rangers bounced back from a crushing Game 1 defeat to beat the New York Yankees 7-2 in Game 2 on Saturday. The Rangers' bullpen, after looking like they didn't even belong in the playoffs in Game 1, rebounded nicely to hold the Yankees scoreless over the last 3 1/3 innings; starter Colby Lewis got the win.

By
Steve C.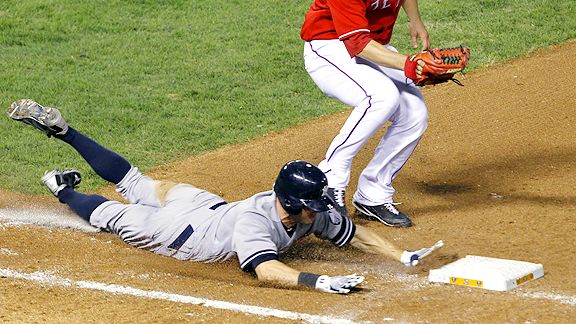 Rangers Waste Strong Outing from C.J. Wilson, Lose to Yankees

The Texas Rangers suffered a crushing defeat at home Friday night at the hands of the defending Champion New York Yankees in Game 1 of the ALCS. The Rangers started out strong when AL MVP candidate Josh Hamilton hit a 3-run homerun in the bottom of the first inning.

Games
Alias
3 Foot Ninja 2
ALIAS 2
Air Dodge
Battle Tanks
Bomber Bob
Cable Capers
Gem Mania
Hacker
Hostile Skies
Mission Mars
Bowling
Samurai Warrior
The Pharoh's Tomb
Monkey Lander
Muay Thai
Action
Donkey Kong Banana Barrage
501 Dart Challenge
Rooftop Skater
Zelda
Donkey Kong
Xtreme Pinball
Tetris
Connect 4
Battleships
Frogger
Penguin Push
Online Video Poker
Spank The Monkey
Mob Pay Back
Dealer
Yeti Sports Seal Bounce
Hold Your Drink Steady
Solitaire
Canyon Glider
3D Sudoku
Metal Slug Rampage
Street Fighter II
Flashman
Disc Golf
Table Tennis
Ninja Air Combat
Celebrity Hitman Terrorist Alert
Spider Solitaire
Tubin
Presidential Knockout
Global Player
Ma Balls
Baseball
Beckham Fit