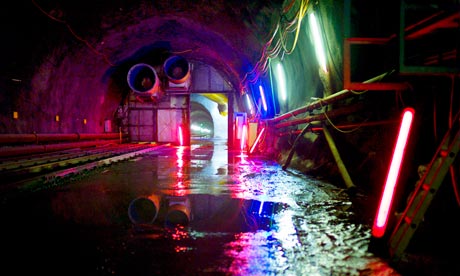 World's Longest Railway Tunnel Completed

Workers completed drilling on Friday to complete what will be the longest railway tunnel in the world in Switzerland on Friday. Construction on the Gotthard Base Tunnel through the heart of the Swiss Alps has been ongoing for the last 14 years. A giant drilling machine nicknamed "Sissi" on Friday cut through the last two meters of rock to connect both ends.

After the tunnel was completed, a group of 50 miners carrying the flags of the various regions of Switzerland involved in the construction walked through the new opening. "It all went very well, the drilling machine went through the rock and the tunnel was there," a spokesman for AlpTransit Gotthard said. The tunnel is reportedly 4 kilometers longer than the Seikan rail tunnel in Japan, which had previously held the title of longest railway tunnel.

The need for the tunnel was recently demonstrated by a study conducted by the European Union Commission which reported that freight traffic in the Alpine region will grow by as much as 75 percent by 2020. The flatter route made possible by the new tunnel will allow faster and more economical freight transportation for the region.