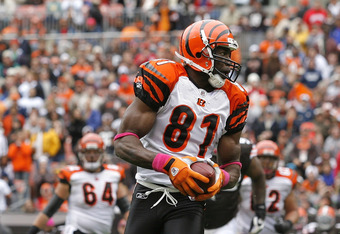 Matt Sullivan/Getty Images


In yesterday's game between the Cincinnati Bengals and the Cleveland Browns, the Bengals were ultimately beaten, even after Terrell Owens had his best game of the season. During the game, the troubled receiver posted 222 yards receiving as well as passing Isaac Bruce on the all-time receiving yards list (T.O. is now number two). Unfortunately, Bengals receiver Jordan Shipley suffered a concussion, after being blasted by Browns defensive back T.J. Ward. The hit had both Owens and Bengals quarterback Carson Palmer referring to it as a "cheap shot".

Owens told the Cleveland Plain-Dealer:, "I think it was a ridiculous play. The guy is defenseless. I hate to see a guy get hit like that. The ball had already bounced off and for him to take a cheap shot like that, that's uncalled for. I think everybody came to Shipley's aid. In a situation like that, people get hurt. Just to see him like that, I thought he was out cold. He was real groggy, eyes were rolling to the back of his head. You never want to see a teammate in that situation. I just hate it.''

Palmer later weighed in, "You hate to see Shipley hit like that. It was a cheap shot, a shot that shouldn't happen. When you see a guy laying on the ground like that, it makes you realize how violent the game can be.''

T.J. Ward told the AP that he would do it again, "I hit him with my shoulder.......They (Bengals) tried to yap at me, but I ignored them. I would do it again."