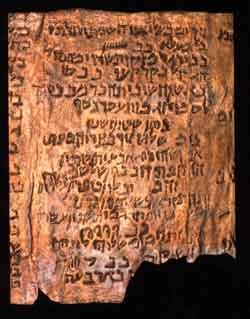 Google to Team with Israel to Make Dead Sea Scrolls Available Online

Google announced on Tuesday that they are teaming up with Israel to make the Dead Sea Scrolls, among the world's most important tightly restricted archaeological finds, available to researchers and the general public online.

The Dead Sea Scrolls are a 2,000 year-old collection of documents written in Hebrew, Greek, and Aramaic that offer insight into Judaism during Biblical times, as well as the origins of the Christian faith. Scientists have complained for years about limited access to the scrolls.

After Google makes the scrolls available, any interested arty will be able to pull up exact digital copies of the documents, complete with an English translation, all free of charge. Officials say the documents will be available online within the next few months, and that portions have been made more legible with the use of infrared technology.

The scrolls were uncovered in the late 1940s within the caves of the Judean Desert and are widely considered the most significant archaeological find of the entire century. After the initial find, tens of thousands of fragments were found in 11 nearby caves. At least 30,000 of these fragments have been photographed by Israel's Antiquities Authority over the years, in addition to the original find, and combined they make up more than 900 manuscripts.

The original scrolls are preserved in a dark, temperature-controlled room at the Israel Museum in Jerusalem, where access is largely restricted to this day. Researchers are required to obtain permission from the antiquities authority to view the documents, but no more than two people are allowed into the viewing room at a time. Scientists are generally allowed three hours to view only the section they requested placed behind glass.

The project is just a part of Google's drive to have historical artifacts catalogued online. The search giant has already done extensive work to upload old books from European universities and images of archaeological finds from Iraq's national university. But this project is different, insiders say, because the scrolls have a universal appeal and new interpretations of the documents could lead to greater understanding of a time that is so important to many of the world's major religions.

Over the last 18 years, segments of the scrolls have toured around the world's museums. 15 were displayed at a recent exhibit in St. Paul, Minnesota. Insiders say these exhibits have typically drawn up to 250,000 in a three-month period, indicating just how much the scrolls fascinate people. There is, to this day, significant mystery surrounding the scrolls. Who copied the ancient texts or how they got there is still unknown. The scrolls include, among other things, sections of the Hebrew Bible and treatises on apocalyptic war and communal living.